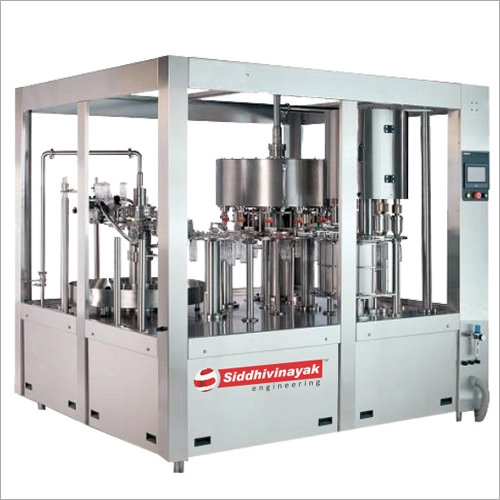 Product Description
Salient Features
Machine is equipped with stainless steel shield,safeguard door for safe operation.
Rotary neck holding.
No Bottle – No Rinse – No Fill – No Cap.
Air Blow Conveyor at infeed station Slat Belt Conveyor onthe out feed station.
Unique Pick & Place type Capping with adjustabletorque mechanism.
Speed Control by AC Drive on HMI screen.
Cap Elevator for feeding cap to the chute with automaticoperation.
Stainless Steel enclosure provided for complete hygienicoperation.
Modular type design of nozzles for easy cleaning.
Can be linked directly to Automatic Blow Molding Machinefor online Blow- Rinse-Fill-Seal.
Compatible with Online Labeling machine or Ink JetPrinter.
Suitable for Plastic, Pet, Tin, containers
Optional Features
Low Air and Vacuum Pressure Sensor-Machine stop.
Multi User Password protected system.
Tower light: Indicate the status of process.
Door open, Low Air pressure No Bottle & Jam Bottle,E-stop With Alarm system.
Visual Inspection light for online manual bottleinspection
TechnicalData
Model

SVRFC-30

SVRFC-60

SVRFC-90

SVRFC-150

SVRFC-200

SVRFC-300

No. of Heads

6-6-3

12-12-6

18-18-6

24-24-8

32-32-10

40-40-12

Capacity @ 1000 ml.

1800 BPH

3600 BPH

4100 BPH

5400 BPH

7200 BPH

9000 BPH

Rinsing Water
Consumption
@ 0.2 ~ 0.25 Mpa

200 Ltr / hr

800 Ltr / hr

1600 Ltr / hr

2500 Ltr / hr

3500 Ltr / hr

4000 Ltr / hr

Compressed Air
Consumption
@ 6 to 8 Bar

0.25 m3 / min

0.25 m3 / min

0.3 m3 / min

0.4 m3 / min

0.5 m3 / min

0.55 m3 / min

Eclectic Power

3.00 KW

4.5 KW

5.0 KW

7 KW

8.5 KW

10KW
Contact Us
27/28/43/44 Shriyam Yam Industrial Estate, Nr. Royal Estate, Singrawa Kathwada Road, Kathwada, Ahmedabad, Gujarat, 382430, India
Phone :+918061856843